First, I am follower of Jesus Christ. I have been involved in ministries with my church my entire life. Most of the ministries I have found were involved with doing good deeds, speaking to strangers concerning the gospel and then leaving them, with the hope the Word and the Holy Spirit would take hold after we left. Whether working in the aftermath of Katrina, building homes for the poor and tornado disaster relief, the ministries provided assistance to those in need, with a return to our church after the task was completed.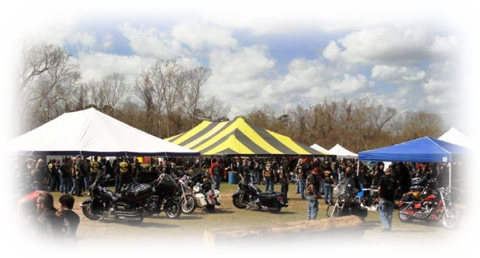 Finding the Tribe of Judah, a dedicated ministry, reaching outlaw bikers in a way I have never experienced, was almost breath taking, unlike anything I had experienced. It was clear from the very beginning, when I pulled up to Beech Bend Drags in Kentucky, and members of a leading outlaw club moved their barricades, to allow my truck and ministry trailer to a prime parking place, that I had entered a ministry where not years, but decades of ground work had been laid to forge relationships and respect with a group of men, harder to reach, more separated from society than any South American or African tribe. These outlaw bikers didn't live thousands of miles away, but rather right in our own communities. However, they were effectively removed from the reach of every other outreach in the United States. Behind a veil of secrecy, reclusive and only allowing outsiders even a small bit of inclusion into their world, I could instantly see that this ministry was built by careful and deliberate work, earning their trust by one meeting, one need being met, and one phone call being answered over several decades.
I could see a ministry I respected. Not grandiose, not a headline ministry, but one dedicated to the cause of reaching these men, hidden behind their codes and rules of their lifestyle with the story of our savior, Jesus Christ. A ministry where a simple introduction might take weeks or months and a real conversation, years of relationship building, and not a ministry for the weak of heart and soul. This level of dedication was only matched by the instant love I felt for the club members that were the focus of our ministry. I had spent my career, defending the outcast of society, those considered less than acceptable. I instantly cared for these men. I could sense and see why men, many with little or no family, no one else to trust or lean on were drawn to the brotherhood of the outlaw biker world. At the same time, I could see the natural end of their choice without Jesus Christ in their life, their choice leading them to jail, loneliness, addiction and many times poverty. I could see that these men who would die for what they respect and honor, could become some of the greatest proponents of the Gospel in the World. This dedication to brotherhood, honor and respect when focused toward God, could carry the name of Jesus to places it had seldom, if ever been introduced. The lesson was clear in the life of men like Pastor Ben Priest and others in Tribe of Judah.
Lastly, I too sought the brother-hood of the biker community, within a lifestyle constant with my Christianity. One Tribe of Judah leader taught me and showed me this brotherhood, this caring above and beyond family in many cases. The phone calls when I most needed it, just to ask how I was, when I wasn't okay. The phone calls from another member, a man who barely knew me, but could call and address issues that were occurring then and there in my life. In these men, and others like them, I saw the power of the Holy Spirit, focused on a dedication to spreading the love of Christ. This combination of the blessed opportunity to reach out to men I respect and love, to build upon the decades of work put forth by the Tribe of Judah, to reach the otherwise unreachable and the brotherhood of the Tribe of Judah, compel me in ways I have never experienced and could never let go of.
by Frank Lannom
TOJ Tennessee