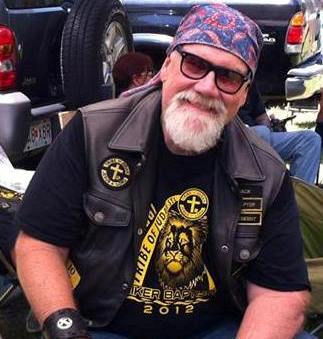 I was raised Lutheran and came from a broken home. My father had a foul temper and was an alcoholic. He had many angry outbursts and was always prone to verbal abuse and when drunk he was prone to beat my mother. One of my earliest memories was being woke up and looking outside on a summer night to see four of my sisters and my two brothers circled around my father beating him up. They finally had enough of him beating my mother. My sister and I ran downstairs to stop it. The police came and took my father to jail and that was the end of my parent's marriage.
I grew up a pretty average kid making B's and C's in school. No real direction and no idea what to do in life. I got a full time job pumping gas when I was 17 and still went to high school. When I graduated, I had one friend go to college to become a chemical engineer and one to become a mechanical engineer. I remember thinking how on earth do they know they want to be engineers? We had no money, my sister had gotten a scholarship to school but I was not smart enough to get one. I did play football in high school but wasn't good enough to get any scholarships in it either. So I stayed working at the gas station and figured I would learn auto mechanics. Once football was over, I started to party. I started riding motorcycles when I was 18 and rode through my first marriage. I got married to my first wife when I was 21 which ended 3 years later. I smoked enough dope to set the world on fire and drank enough beer and wine to put it out. I ended up selling my bike to pay my divorce lawyer. In general, I was a very average person, with no real prospects for success with the same foul temper my father had. I was on a downward spiral, but my Lutheran upbringing did act as an anchor that kept me from going too far.
In 1979, I married my second wife, Carol. I wanted to start riding again but she didn't want to. That turned out to be for the best because we had a lot of problems because of who I was. I went to counseling once and the doctor gave me a big test and when it came back he told me I was a little depressed, overly aggressive and one question away from being clinically paranoid. I ran into one of the people I had gone to high school with and they ended up taking us to a non denominational church service. Wow, was that different. Fun, alive, powerful – we had a great time and Carol and I both went forward at the alter call with tears in our eyes and everything changed! That was 1980.
We found a nondenominational spirit filled church close to home. Our pastor always said read your Bible, read your Bible, read your Bible, but I didn't. Carol and I had been trying to have kids and we finally went to a doctor and they said we could not have any. After I started reading my Bible and got to Deuteronomy and got to chapter 28 that said God would bless the fruit of your womb and there would be no barren among you. I found Carol and showed her that verse and said – looks like we are going to have a baby and three months later she was pregnant. Our daughter was born in 1985!
During the same time, our church had a building program and our pastor had been asking us all to pray about what God wanted us to give. I was about 25 at the time and Carol and I had $1200 in savings. I asked God during church what He wanted us to give and I believe He told me to give it all. I told Him that I would but I would need some confirmation from my wife so I asked her on the way home. She said sheepishly that she thought we should give it all. We gave it all the next week. I thought there goes 25 years of savings and I figured Carol and I would have another $1200 in savings by the time I was 50. In 3 months Carol came to me and told me we had $1500 back in savings. No pay raises, no big gifts but somehow God brought little bits of extra money in from all directions. I laughed and told God – I am all in! By 1987, He had put me in my own auto repair business and by 1989 I had my second location. We have been keeping families safe since 1987 and September 1, 2013 will be my 26th year in business.
I started riding again in 1994. I was strong in my Christian beliefs and I have to admit I was a little concerned about taking it up again because I did not want to head down that old road again. I went to benefit ride early on and I saw some Christian riders. There were no Christian riders when I was riding in the 70's so I thought this might just work. I went to Kenneth Copeland's Eagle Mountain Motorcycle Rally in 1995. I had met Tribe of Judah Motorcycle Ministries through a guy I went to church with. When I got to Eagle Mountain, Tribe of Judah was there in force. I was so impressed by the sincerity of their walk with the Lord that I could not stay away. It was so awesome to hear their testimonies and see what God had done in their lives. I had never met such a large group of totally sold out men. I had gone to church for a long time by then and in churches you only have a few people that are totally sold out to Christ, but here – they ALL were. They all knew their Bible and they were serious about their walk and I knew that if I was part of them, they would hold my feet to the fire and I would grow even more in the Lord. In 1997, I went to Sturgis with them and in 1998, I came back as a prospect and I have never looked back.
When I first started reading my Bible 30 years ago I came across a verse the just exploded in my spirit. It was Psalms 37:25 – "I have been young and now I am old; yet I have not seen the righteous forsaken, nor his seed begging bread." I knew when I read that, I would someday be able to say it! God has been faithful to perform all of His Word and promises in my life. There have been so many challenges and fights that sometimes I get tired of them, but God always come through and always turns the bad things into something good.
Since that time, God has increased us more and more. Our daughter is blessed, our grandson is blessed and GOD IS AWESOME! God has used us in Tribe of Judah Motorcycle Ministries to change lives, help hurting people and minister God's love, mercy and healing to many people. God has performed healing miracles through us. He has used us to lead many 1%'ers to Christ. It has been an honor and a blessing to be used by God. I am still all in for Christ.