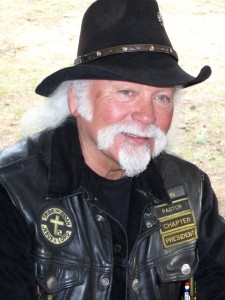 Deserted by his biological family at the age of 6, John spent the next several years in foster homes and boys ranch, Then a family adopted him, which didn't last long and John joined the U. S. Marine Corps. Full of anger and violence, the only thing saving him from many years in prison, is that he was a good Marine. He spent two tours in Viet Nam. After returning to the states, the anger, violence and alcohol became even worse. He became involved with motorcycle clubs, more violence, racing bikes, cars and horses.
He met a backslidden preacher's daughter and the two of them were married, but his anger and violence didn't stop. It had given him a bad reputation around the military base where he was stationed and his commanding officer had no other choice but to transfer him to another duty station in another state.
His father and mother-in -law were Pentecostal preachers and prayed for John and his wife continually. John's wife started back to church and rededicated her life to Christ, praying that John would come to Jesus. After a year of praying for John and with their marriage falling apart, his wife would not give up praying for him, even when there seem to be little hope. God told his wife that when he came to know Christ, he would be a great threat to the Kingdom of darkness and not to give up. One night while John was involved in a bar room brawl, God spoke to him saying this is your last chance. Walk out of here and let me set you free from all the anger and hurt you have. That night in November of 1978, John surrendered his life to Christ, never to be the same again. Delivered of anger and violence, he was able to lead several Marines to the Lord.
Ten years after retiring with 22 years in the Marines, John and his wife began pastoring a church.  In 2001 John and his wife were called into Tribe of Judah Motorcycle Ministries and John now serves as the Western Regional President for Tribe of Judah. Now the ones he lead down the wrong road for so many years, are the ones he has dedicated his life to reaching, letting them know that Christ can do the same for them. He and his wife are still pastoring.